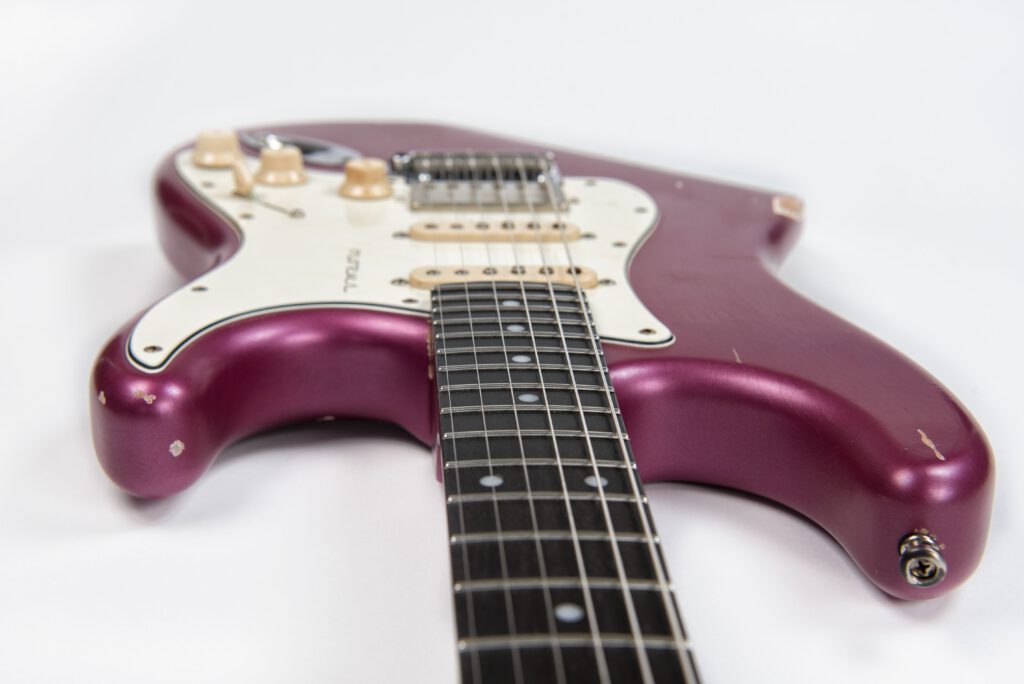 There is this one guitar that we have grown fond of. Do not get us wrong. A great deal of love goes into all our guitars during the creative process and embodies our sense of harmony and beauty in the finest way. Satisfaction. Our moews Salinger Purple Metallic Fortissimo is all that and so much more. It is the heartbreaker of our Salinger Fortissimo Models.
Good things come to those who wait, as the saying goes. A piece of wisdom that is as much a part of the guitar maker's daily work as the choice of the right tool or the stylish coloring. The ultra thin applied nitro finish in sexy purple metallic – Cadillac Like – as an over-vintage white lacquer with authentic and finely worked grip and wear marks, becomes the high-end topic of your unfulfilled wishes. Our Salinger Fortissimo come with a classic HSS variant that may show no limits to its sound spectrum. A good thing. It gives you the feeling of unbridled freedom. Let the tiger off the leash and show what you are made of. Our Salinger does the rest. She is a heartbreaker – our moews Salinger Fortissimo Purple Metallic. Are you ready?
Review of the moews Salinger Fortissimo Purple Metallic by Peter Schilmöller/ Grand Guitars.
Body, Neck, Colour, Hardware, Pick Ups, Electric? More info about the moews Salinger Purple Metallic at our dealer Lead Guitars in Potsdam.